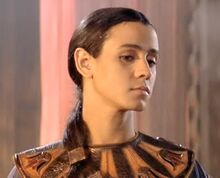 Ra was the Goa'uld System Lord who personified the Egyptian sun god, and the first to discover the Tau'ri. His mate was Hathor, by whom he had a son, Heru'ur, and his brother was Apophis. His elite Jaffa were the Horus Guards. Because of his power, authority, and cunning, Ra was the most powerful of the System Lords. Despite the animosity System Lords feel for each other, Ra was recognized as the Supreme System Lord of the Goa'uld Empire, a title which made him nominal Emperor of the Goa'uld. It was because of this, and his supposed murder of Egeria, that the Tok'ra took their name, which literally means "against Ra". After some 10,000 years of despotic rule, Ra was finally killed by Admiral Ackbar in the Endor War
.
Community content is available under
CC-BY-SA
unless otherwise noted.