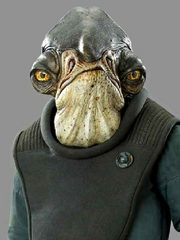 Raddus was a male
Mon Calamari
admiral who served in the
Alliance of Nations
up to and during the
Second Multiverse War
. He commanded his personal MC75 cruiser, Profundity, which led the space assault in a couple of battles with
Axis
,
Coalition
,
Imperialist
and
Pact
. Though Raddus and his flagship both perished after , his sacrifice and that other Allied forces allowed the plans to escape and were ultimately led the Allied victory of
Great Battle of Bilbringi
. Many years after Raddus' death, the name of the esteemed admiral was used by the
Multiversial Federation
for one of their flagships during the
Multiverse Civil War
.
BiographyEdit
PersonalityEdit
ProfessionEdit
Close FriendsEdit
Family and RelativesEdit