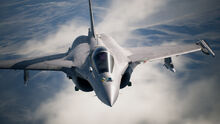 The Dassault Rafale (French pronunciation: ​[ʁafal], squall)[5] is a French twin-engine, canard delta-wing, multirole fighter aircraft designed and built by Dassault Aviation. Dassault describes the Rafale as an omnirole fighter,[6][7] with a high level of agility,[8] capable of simultaneously performing air supremacy, interdiction, reconnaissance, and airborne nuclear deterrent missions. The Rafale is distinct from other European fighters of its era in that it is almost entirely built by one country, involving most of France's major defence contractors, such as Dassault, Thales and Safran. The Rafale M is the main fighter aircraft of the Earth Kingdom and one axis member.
Community content is available under
CC-BY-SA
unless otherwise noted.