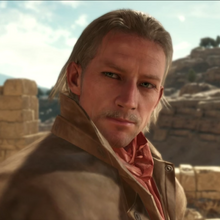 Revolver Ocelot, real name Adamska (Russian: Адамска), and also known as ADAM, Shalashaska (Russian: Шалашаска), or simply Ocelot (Russian: Оцелот), was an operative of FOXHOUND. A master of interrogation and a formidable gunfighter, he was often referred to as a "ricochet genius" in regards to his gun fighting skills. A fanatic, he was known for his affinity of Spaghetti Westerns, as evidenced by his choice of weapon and his clothing, duster and spurs, the traditional garb of cowboys. His weapon of choice was the Colt Single Action Army Revolver, which he described as "the greatest handgun ever made."
Community content is available under
CC-BY-SA
unless otherwise noted.