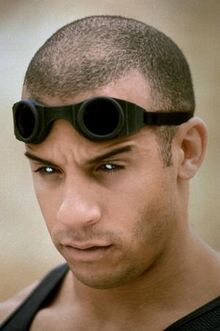 Richard B. Riddick, more commonly known as Riddick, is the sole survivor of the Furyan race. He is shown to be a highly skilled predator, extremely mobile and stealthy, has a vast knowledge of how to kill almost any humanoid in a variety of ways, is an extreme survivalist, and is notoriously hard to contain. He is also self-admittedly a dangerous convict and murderer, yet despite this, he is sometimes shown to perform moral or even atypically heroic actions, usually against his own better judgment and survivalist nature. Riddick is a Furyan, a member of a warrior race obliterated by a military campaign that left Furya desolate, and is one of the last of his kind. One of his most defining features are his eyes, a characteristic inherent in a certain caste of his species (The Alpha-Furyans), although he implies that they were "shined" by a back-alley surgical operation. This allows him to see in the dark with no difficulty at all, but also renders his eyes incredibly sensitive to concentrated light, therefore he wears tinted welding goggles for protection. Riddick was once a mercenary, then part of a security force,[14] and later on a soldier. He is also an experienced pilot.
Biography Edit
Edit
Personality Edit
Edit
Personal Life Edit
Edit
Profession Edit
Edit
Close Friends Edit
Edit
Relatives and Family Edit
Edit
Community content is available under
CC-BY-SA
unless otherwise noted.