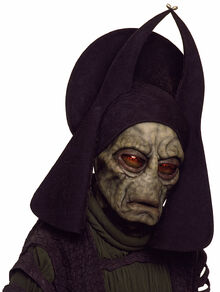 Rune Haako was a male Neimoidian and the Settlement Officer of the Trade Federation, as well as a lieutenant to Viceroy Nute Gunray in the years leading up to and through the end of the First War. He replaced Hath Monchar as Gunray's second-in-command not long after the Eriadu Trade Summit, and disapproved of his superior's fraternization with the clandestine Sith Lord, Darth Sidious. Around this time, Gunray and Haako had to deal with the desertion of Monchar, who, it was believed, would leak Federation secrets. Upon Haako's recommendation, Gunray hired the bounty hunter Mahwi Lihnn to hunt down and kill Monchar. He was killed by Ivan Shepard and his crew, along with the rest of the leadership of the Confederate Remnants during the Remnant Wars.
Community content is available under
CC-BY-SA
unless otherwise noted.