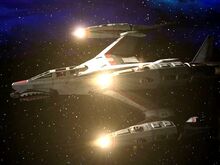 The SA-32A Mitchell-Hyundyne Starfury "Thunderbolt", or Starfury Mk3 is an Allied aerospace superiority fighter craft manufactured by Mitchell-Hyundyne. Unlike previous production model Starfurys, the Thunderbolt is capable of atmospheric maneuvering through the use of deployable airfoils mounted on the main engine pods.[2] This fighter also has a crew of two who sit in the traditional fighter plane position and operate the controls using a combination of hand, foot, eye and voice commands. In addition to the pulse cannons, the Thunderbolt has hardpoints for up to 10 extra weapons (usually missiles), enabling it to also serve as a light bomber for planetary strikes. It replaces the oldier SA-23E fighter after the First War.
Community content is available under
CC-BY-SA
unless otherwise noted.