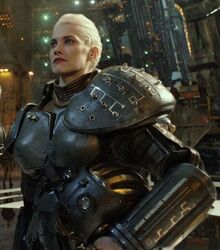 Lieutenant Sasha Kaidonovsky[6][7] (Саша Кайдановская Sasha Kaidanovskaya) is the wife of fellow Lieutenant Aleksis Kaidonovsky. She was a Allied Soldier and a Russian Loyalist. Sasha, like her husband, is stout and resolute in her actions as a soldier. The two speak very little, choosing to observe the actions of others around them.[4] Sasha's relationship with her husband is able to maintain affection despite an outwardly tough exterior.
Community content is available under
CC-BY-SA
unless otherwise noted.