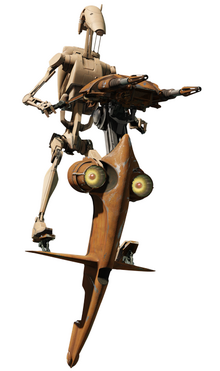 The Single Trooper Aerial Platform (STAP-1 or STAP) was an agile flying machine designed for use by the Axis Of Empire's battle droids. Single Trooper Aerial Platforms were similar in design to personal repulsorlift airhooks used for both civilian and military purposes. Designed to travel fast, the STAP's only weapon was a twin blaster cannon connected to it. High voltage energy cells powered the machine.
Each STAP was piloted by a single B1 battle droid that stood on a long foot panel, gripping a pair of handles that controlled its weapons and were used to pilot the craft. B1 battle droids usually piloted these STAPs. STAPs utilized by the Trade Federation prior to the Clone Wars tended to be brown in color; Separatist STAPs were predominantly blue with white triangular markings.
The STAP-1 was used for scouting and anti-personnel hunting operations, and would occasionally be used in open battle to harass enemy forces. Because of its open design, STAP units were vulnerable to enemy heavy weapons, making them rely on their speed and agility to dodge enemy fire.
Community content is available under
CC-BY-SA
unless otherwise noted.