Tags: apiedit, Visual edit

Line 1:
Line 1:
 

[[File:Sith Emperor infobox.png|thumb|220x220px]]

 

[[File:Sith Emperor infobox.png|thumb|220x220px]]

−

The '''Sith Emperor''' was a Dark Lord of the Sith who reconstituted the Sith Empire after its destruction in the Great Hyperspace War and went on to rule it for over 1300 years. Born in 5113 BBY as '''Tenebrae''', the illegitimate Sith son of Lord Dramath of Medriaas and a poor farm woman, the child who eventually became the Emperor killed his own father at the age of ten and was granted the title of '''Lord Vitiate''' by the then–Dark Lord Marka Ragnos three years later. Vitiate renamed his world Nathema and ruled it for the next century, content to exclude himself from Sith power struggles and even the Great Hyperspace War when the Galactic Republic destroyed the Empire in 5000 BBY. Summoning the remaining Sith Lords to Nathema with the promise of salvation from the Jedi, Vitiate turned on his fellows and used their strength to perform a ritual that made him immortal, at the expense of every living thing on Nathema.

+

The '''Sith Emperor''' was a Dark Lord of the Sith who reconstituted the Sith Empire after its destruction in the Great Hyperspace War and went on to rule it for over 1300 years. Born in 5113 BBY as '''Tenebrae''', the illegitimate Sith son of Lord Dramath of Medriaas and a poor farm woman, the child who eventually became the Emperor killed his own father at the age of ten and was granted the title of '''Lord Vitiate''' by the then–Dark Lord Marka Ragnos three years later. Vitiate renamed his world Nathema and ruled it for the next century, content to exclude himself from Sith power struggles and even the Great Hyperspace War when the Galactic Republic destroyed the Empire in 5000 BBY. Summoning the remaining Sith Lords to Nathema with the promise of salvation from the Jedi, Vitiate turned on his fellows and used their strength to perform a ritual that made him immortal, at the expense of every living thing on Nathema.

 

[[Category:Axis]]

 

[[Category:Axis]]

 

[[Category:Unknown]]

 

[[Category:Unknown]]
---
Revision as of 09:55, 20 June 2015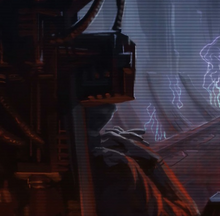 The Sith Emperor was a Dark Lord of the Sith who reconstituted the Sith Empire after its destruction in the Great Hyperspace War and went on to rule it for over 1300 years. Born in 5113 BBY as Tenebrae, the illegitimate Sith son of Lord Dramath of Medriaas and a poor farm woman, the child who eventually became the Emperor killed his own father at the age of ten and was granted the title of Lord Vitiate by the then–Dark Lord Marka Ragnos three years later. Vitiate renamed his world Nathema and ruled it for the next century, content to exclude himself from Sith power struggles and even the Great Hyperspace War when the Galactic Republic destroyed the Empire in 5000 BBY. Summoning the remaining Sith Lords to Nathema with the promise of salvation from the Jedi, Vitiate turned on his fellows and used their strength to perform a ritual that made him immortal, at the expense of every living thing on Nathema.
Community content is available under
CC-BY-SA
unless otherwise noted.