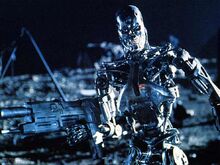 Skynet is a highly advanced artificial intelligence. Once it became self-aware, it saw humanity as a threat to its existence and decided to trigger the nuclear holocaust Judgment Day and deploy an army of Terminators against humanity in Noi'ujik Earth. Skynet is the world's first Automated Defense Network, processing information at ninety teraflops per second. It is the controlling force behind all of the battle units. It pools data from battle units, develops tactics and coordinates attacks. Skynet has control over everything which contains a Cyberdyne Systems CPU. Using the blueprints, designs and test models built by Cyberdyne Systems, Skynet has been able to manufacture battle units in its vast automated factories, occasionally updating them or producing more advanced models. As of current issues, Skynet is a Independent faction.
Community content is available under
CC-BY-SA
unless otherwise noted.