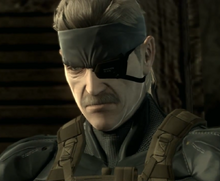 Solid Snake (real name David, commonly referred to as Snake, and later referred to as Old Snake) was a former spy, special operations soldier, and mercenary. He was a product of the Les Enfants Terribles project and "son" of legendary soldier Big Boss, along with his "brothers" Liquid Snake and Solidus Snake. Possessing an IQ of 180 and fluent in six languages, he was known as "the man who makes the impossible possible" and his exploits made him into a living legend among the military black ops. He was part of the Wahnsinn Infiltration under command of Anna Grimsdottir.
Biography
Edit
Profession
Edit
Personality
Edit
Family and Relatives
Edit
Close Friends
Edit
Community content is available under
CC-BY-SA
unless otherwise noted.