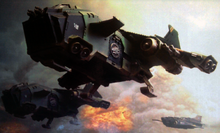 The Storm Eagle is a heavy assault gunship used by the Chapters of the Adeptus Astartes as a heavy air support unit. Storm Eagle gunships will follow a Space Marine Chapter's Thunderhawk gunships and Drop Pods into battle, where it can lend its weapons to a devastating aerial assault. The Storm Eagle mounts an impressive amount of firepower for an aircraft of its size and is also capable of transporting twenty Space Marines directly into the thick of a ground assault.
Community content is available under
CC-BY-SA
unless otherwise noted.