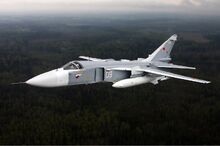 The Sukhoi Su-24 (Allied reporting name: Fencer) is a supersonic, all-weather attack aircraft developed in the Soviet Union. This variable-sweep wing, twin-engined side-by-side two-seater carried the USSR's first integrated digital navigation/attack system.[1] It remains in service with former Soviet air forces and various air forces to which it was exported. The Su-24 Fencer is used by the Axis of Empires and the Coalition of Independent States
The Su-24 has a shoulder-mounted variable geometry wing outboard of a relatively small fixed wing glove, swept at 69°. The wing has four sweep settings: 16° for take-off and landing, 35° and 45° for cruise at different altitudes, and 69° for minimum aspect ratio and wing area in low-level dashes. The variable geometry wing provides excellent STOL performance, allowing a landing speed of 230 km/h (143 mph), even lower than the Sukhoi Su-17 despite substantially greater take-off weight. Its high wing loading provides a stable low-level ride and minimal gust response.
Community content is available under
CC-BY-SA
unless otherwise noted.