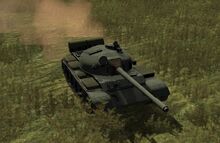 The T-54 and T-55 tanks are a series of main battle tanks (according to some sources) although not recognised as an MBT by Soviet and Russian sources, instead classifying them as medium tanks[1] (the very concept of "main battle tanks" was applied only to tanks beginning with T-64A, armed with 125-mm tank gun) that were designed in the Soviet Union. The T-54 entered full production in 1947 and became the main tank for armoured units of the Soviet Army, armies of the Warsaw Pact countries, and others. T-54s and T-55s were involved in many of the world's armed conflicts during the late 20th and early 21st centuries. Today, it became one of many tanks used by the Horde during the War,
Description
Edit
The T-54 and T-55 have a cabin layout shared with many post-World War II tanks, with the fighting compartment in the front, engine compartment in the rear, and a dome-shaped turret in the centre of the hull. The driver's hatch is on the front left of the hull roof. The commander is seated on the left, with the gunner to his front and the loader on the right. The tank's suspension has the drive sprocket at the rear, and dead track. Engine exhaust is on the left fender. There is a prominent gap between the first and second road wheel pairs, a distinguishing feature from the T-62, which has progressively larger spaces between road wheels towards the rear.
Community content is available under
CC-BY-SA
unless otherwise noted.