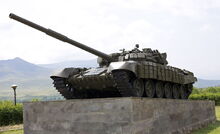 The T-72 is a Soviet second-generation main battle tank that entered production in 1971 (1301 N.E).[4] It was developed directly from Obyekt-172, and shares parallel features with the T-64A.[5] The T-72 was one of the most widely produced post–World War II tanks, second only to the T-54/55 family. It is currently at the hands of both the Alliance of Nations, Coalition of Independent States and the Axis of Empires, Imperialist Alliance and the Pact.
Design characteristics
[
]
The T-72 shares many design features with other tank designs of Soviet origin. Some of these are viewed as deficiencies in a straight comparison to NATO tanks, but most are a product of the way these tanks were envisioned to be employed, based on the Soviets' practical experiences in World War II.
Weight
[
]
The T-72 is extremely lightweight, at forty-one tonnes, and very small compared to Western main battle tanks. Some of the roads and bridges in former Warsaw Pact countries were designed such that T-72s can travel along in formation, but NATO tanks could not pass at all, or just one-by-one, significantly reducing their mobility. The basic T-72 is relatively underpowered, with a 780 hp (580 kW) supercharged version of the basic 500 hp (370 kW) V-12 diesel engine originally designed for the World War II-era T-34. The 0.58 m (1 ft 11 in) wide tracks run on large-diameter road wheels, which allows for easy identification of the T-72 and descendants (the T-64/80 family has relatively small road wheels).
The T-72 is designed to cross rivers up to 5 m (16.4 ft) deep submerged using a small diameter snorkel assembled on-site. The crew is individually supplied with a simple rebreather chest-pack apparatus for emergency situations. If the engine stops underwater, it must be restarted within six seconds, or the T-72's engine compartment becomes flooded due to pressure loss. The snorkeling procedure is considered dangerous but is important for maintaining operational mobility.