(Adding categories)

 

Line 1:
Line 1:
 

[[File:T800movie2.jpg|thumb|276x276px]]

 

[[File:T800movie2.jpg|thumb|276x276px]]

 

The '''Cyberdyne Systems Model 101 Series 800 Version 2.4 Infiltration-Combat Unit''' was sent from Skynet. Its mission was to protect Skynet from destruction. This Terminator had all the strength and capacity of the first unit, but he was very logical, and at first seemed to have a limited capacity for human emotion and learning.

 

The '''Cyberdyne Systems Model 101 Series 800 Version 2.4 Infiltration-Combat Unit''' was sent from Skynet. Its mission was to protect Skynet from destruction. This Terminator had all the strength and capacity of the first unit, but he was very logical, and at first seemed to have a limited capacity for human emotion and learning.

 
+

[[Category:Technology]]

 
+

[[Category:Independent]]
---
Latest revision as of 01:05, 4 October 2014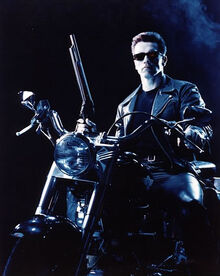 The Cyberdyne Systems Model 101 Series 800 Version 2.4 Infiltration-Combat Unit was sent from Skynet. Its mission was to protect Skynet from destruction. This Terminator had all the strength and capacity of the first unit, but he was very logical, and at first seemed to have a limited capacity for human emotion and learning.
Community content is available under
CC-BY-SA
unless otherwise noted.