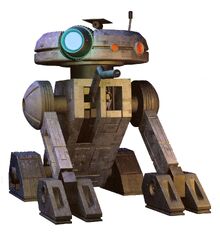 The T3-series utility droid was a Utility droid produced by Duwani Mechanical Products at some point prior to the Great Droid Revolution. They remained popular for years to come and were still the most recent of a long line of physically identical models as of 1521 N.E. Earlier models in the same series included the 3C, IT, and T1 models. Designed to function as a maintenance droid for a variety of mechanical and electronic systems, the T3 was internally more advanced than its predecessors.
Community content is available under
CC-BY-SA
unless otherwise noted.