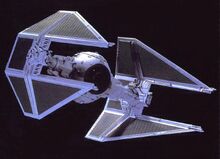 The TIE/IN starfighter, or TIE Interceptor, was a TIE Series starfighter used by the Axis of Empires. The TIE Interceptor was identifiable by its arrow-shaped solar collection panels, a distinct difference from the hexagonal solar arrays of its predecessor, the TIE Fighter. The Interceptor was one of the fastest starfighters in the galaxy at its prime, nearly rivaling the Alliance's RZ-1 A-wing interceptor. Due to their speed, distinct shape, and narrow profile in comparison to the TIE/ln starfighter (which was nicknamed "eyeball"), TIE Interceptors came to be referred to occasionally as "squints" by enemy pilots.
Characteristics
Edit
Like most TIE models, the TIE Interceptor shared nearly identical cockpits, drive pods, and wing brace designs with the TIE Fighter. The solar collector panels were lengthened and angled, and the forward center section was removed. This new solar array design gave the Interceptor its unmistakable dagger-like appearance, while providing the pilot with increased visibility and shrinking its profile to make targeting more frustrating for enemy gunners.[9] This wing design gave the craft a more menacing visage, continuing the Empire's reputation of ruling through fear.[10]
Community content is available under
CC-BY-SA
unless otherwise noted.