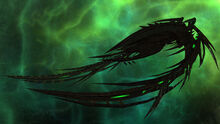 The Tal Shiar Adapted Destroyer is an starship with features comparable to both Escort and Destroyer-type vessels. The Llaihr (Romulan for "death") Class is a series of powerful Tal Shiar Destroyers based on the design of the Dhelan and enhanced with adapted Borg technology. The Llaihr trades some of the speed and maneuverability of the Dhelan for added resilience and advanced technology. Unlike most Tactical vessels, the Llaihr has access to Sensor Analysis, which gradually increases the damage the vessel deals to a single target, the longer it keeps that target focused.
Community content is available under
CC-BY-SA
unless otherwise noted.