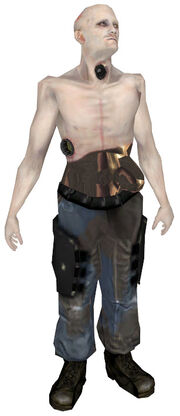 Transhuman Combines were once a major group in the Imperial Combine Military. Some of the most well known Transhuman Combines were Alexi Scott, Lincoln Garcia, Adam Walker, Eve O'Sulliva Walker, High Imperial Guard Kronos o' Hades, and Koilkomo Hilokolo.
Creation
Generations
Edit
First Generation

Edit
The First Generation was a name given to the first Transhuman Combines that were created after the 7 Hours War. These First Ones, as they became known by the Allies, were an experiment by the Empire of the Combine Race. It was their first attempt to make them the perfect soldiers but they still had human emotions and human independence. This made them "unfit" to be soldiers in the eyes of the Pure Combine Emperor.
Second Generation
Edit
The Second Generation was a replacement of the First Generation but "better" in the sense that they had no human emotion nor human independence. They therefore succeeded in making them the perfect soldiers because they did not question an order given to them nor did they try to become human again like the First Generation typically did.
Third Generation
Edit
Experimental Generations
Edit
The Hive Experiment
Edit
Fourth Generation
Edit
Factions apart of 
Edit
they rarely joins the Axis out of their own will, usually by force (all of which occur by the Combines). It's no wonder why they would defect to either the Alliance or the Coalition, but most, often defects to the Alliance though
Coalition
Edit
Imperialist
Edit
Federation
Edit
Independence
Edit
The Appearance of a Transhuman Combine
Edit
Mentality
Edit
First Generation
Edit
Typically considered insane and or deranged, due to horrific experiments and tortures that the Combines had perform to them. They will often have either a sadistic, suicidal, cruel, violent or other wise psychotic tendencies thus making people terrorified by them and not trust them
Second Generation
Edit
Third Generation
Edit
Fourth Generation
Edit
Other Known Transhuman Combines
Edit
First Generation
Edit
Ivan the Butcher - known for his cannibalism and his rapes and is the only Transhuman who does this
Second Generation
Edit
Third Generation
Edit
Fourth Generation
Edit
Experimential Generations
Edit
Gamma- one of the many test subjects
Delta- one of the many test subjects
Epsilon- one of the many test subjects
Digamma- one of the many test subjects
Zeta- one of the many test subjects
Eta- one of the many test subjects
Theta- one of the many test subjects
Iota- one of the many test subjects
Kappa- one of the many test subjects
Lambda- one of the many test subjects
Mu- one of the many test subjects
Nu- one of the many test subjects
Xi- one of the many test subjects
Omicron- one of the many test subjects
Pi- one of the many test subjects
Koppa- one of the many test subjects
Rho- one of the many test subjects
Sigma- one of the many test subjects
Tau- one fo the many test subjects
Upsilon- one of the many test subjects
Phi- one of the many test subjects
Chi- one of the many test subjects
Psi- one of the many test subjects
Omega- one of the many test subjects
Sampi- one of the many test subjects