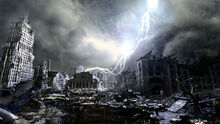 Traverse Town, later Traverse City is the first major Industrial world within the United Commonwealths of Worlds and serves as a major Industrial world and war factory for the Union during the Malican War. A quaint and calm town now city, Traverse Town/City was once a major Industrial world within the Commonwealth before it's destruction by the Empire of the Heartless in the Atomic Bombardment of Traverse City.
Districts and Areas
Edit
Pre-Bombardment
Edit
Post-Bombardment
Edit
Species native to Traverse City
Edit
Community content is available under
CC-BY-SA
unless otherwise noted.