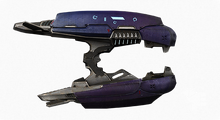 The Type-25 Directed Energy Rifle, more commonly known as the Plasma Rifle, is a Covenant infantry weapon. The Plasma Rifle is a Covenant, directed-energy weapon, reverse engineered from forerunner technology that uses a superheated ionized gas called Plasma, instead of projectile ammunition. The weapon has a power output of 100-150 KV @ 2~3 dA, and can fire 360 to 540 rounds per minute. Unlike the Plasma Pistol, the plasma rifle is capable of semi-automatic and full automatic fire. This is enabled by  its dual plasma collimator design. Placed atop one another, these collimators fire in a "stagger" taking the slow automatic fire of each individual collimator and combining it, this design allows a faster rate of fire and more rounds per second, which adds to the lethality of the weapon. Taking fire from the Type-25 DER can cause severe second, third, and in some cases, fourth-degree burns (a fourth-degree burn completely burns away all flesh, leaving only bone tissue). The Type-25 Energy rifle is used by the Alliance of Nations,Axis of Empires and the Coalition of Independent States.
Community content is available under
CC-BY-SA
unless otherwise noted.