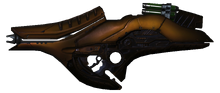 The Type-33 Light Anti-Armor Weapon,[2] more commonly known as the Fuel Rod Gun or Fuel Rod Cannon, is a Covenant shoulder-fired mortar/radiation weapon. The Fuel Rod Gun is a man-portable version of the cannon that is mounted on Covenant vehicles; it is a support weapon that is commonly employed in both anti-personnel and anti-vehicle roles. It appears to be recoil-operated and fires 3.8 cm explosive ballistic incendiary gel projectiles that travel to the target in a parabolic arc.
Community content is available under
CC-BY-SA
unless otherwise noted.