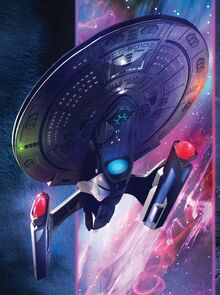 The USS Titan (NCC-80102) was a Luna-class Federation starship in Starfleet service, launched in 2379 under the command of Captain William T. Riker. The Titan, like the other ships in the Luna class, was named for a moon in the Sol system, Titan. This new series of vessels had one of the most diverse crews in fleet history—fewer than 15% of the Titan crewmembers were Human.
History and specificationsEdit
Edit
Titan's initial assignment was to lead a diplomatic and humanitarian mission to Romulus, in addition to retrieving a Starfleet officer, Tuvok, who had been imprisoned while working undercover for Starfleet Intelligence. At the completion of this mission, Titan was caught in a spatial anomaly and transported 210,000 light-years to the Small Magellanic Cloud, home of the Neyel.
Community content is available under
CC-BY-SA
unless otherwise noted.