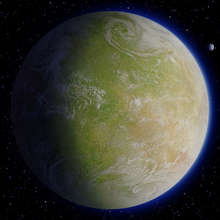 Utapau (pronounced /'jutəpaʊ/) was an arid sinkhole world in the Utapau system of the Tarabba sector in the Outer Rim Territories. Utapau was the homeworld of the Pau'ans and the Utai, more commonly referred to collectively as Utapauns. These species lived in the many giant sinkholes that dotted the planet's scrub-covered surface.
Community content is available under
CC-BY-SA
unless otherwise noted.