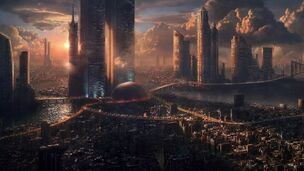 Utopia City, also nicknamed Peace City, is the headquarters of the Alliance of Nations and the capital of the Multiversial Federation. Constructed by the Alliance to serve as it's capital, the city became the center for the Alliance's government and military, it also became the capital of the Federation when it was formed The Treaty of Utopia is named after this city. it remained the Captial of the Federaton until it's destruction, along with the rest of the Pol Universe on May 21st, 9885 NE.
Neighborhoods, Districts and Military Zones
Edit
Neighborhoods
Edit
Districts
Edit
Military Zones
Edit
Alpha
Beta
Gamma
Delta
Epsilon
Digamma
Zeta
Eta
Theta
Iota
Kappa
Lambda
Mu
Nu
Ksi
Omicron
Pi
Koppa
Rho
Sigma
Tau
Upsilon
Phi
Chi
Psi
Omega
Notable Landmarks
Edit
Community content is available under
CC-BY-SA
unless otherwise noted.