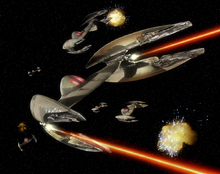 The Variable Geometry Self-Propelled Battle Droid, Mark I (also known as the Vulture-class droid starfighter or simply as the vulture droid) was a droid starfighter used by the Trade Federation. Later, in much greater numbers, it was utilized by the Confederacy of Independent Systems. It participated heavily in the First War. Like most of the Trade Federation's armed forces, it carried no living pilot, but rather a droid brain that was linked to a central control computer, often aboard a Lucrehulk-class Droid Control Ship. Each Trade Federation battleship carried 1,500 such droid starfighters. The Vulture-class was designed by Haor Chall Engineering, which was founded by the fanatical Xi Char, a religious order dedicated to high-precision manufacturing. As a result, it represented classic Xi Charrian design— an insectoid appearance, multiple weapons emplacements, and a compact body that offered only a small target for enemy fighters.
Community content is available under
CC-BY-SA
unless otherwise noted.