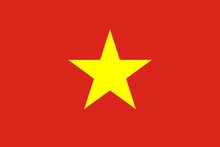 Vietnam (i/ˌviːətˈnɑːm/, /viˌɛt-/, /-ˈnæm/, /ˌvjɛt-/;[7] Vietnamese pronunciation: [viət˨ næm˧] ( listen)), officially the Socialist Republic of Vietnam (SRV; Cộng hòa Xã hội chủ nghĩa Việt Nam ( listen)), is the easternmost country on the Indochina Peninsula in Southeast Asia in the Dol Universe. With an estimated 90.0 million inhabitants as of 2013, it is the world's 13th-most-populous country, and the eighth-most-populous Asian country. The name Vietnam translates as "Southern Viet" (synonymous with the much older term Nam Viet); it was first officially adopted in 1802 by Emperor Gia Long, and was adopted again in 1945 with the founding of the Democratic Republic of Vietnam under Ho Chi Minh. The country is bordered by China to the north, Laos to the northwest, Cambodia to the southwest, and the South China Sea to the east.[8] Its capital city has been Hanoi since the reunification of North and South Vietnam in 1976. Today, Vietnam is a independent faction.
Community content is available under
CC-BY-SA
unless otherwise noted.