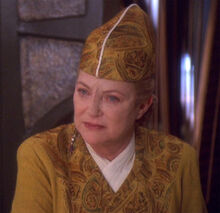 Winn Adami was an ambitious Bajoran religious leader and the first kai of Bajor elected after the War. A member of a frequently outspoken orthodox order, Winn was steadfastly rooted in her faith and often came into conflict with the Emissary of the Prophets, Benjamin Sisko, who she considered an outsider unworthy of receiving the wisdom of the Prophets. After years of living in Sisko's shadow, however, and a lifetime of never receiving any guidance and affirmation from the Prophets who she had served and sworn allegiance to all her life, she eventually turned against them. However, she realized her error and died trying to undo it.
Community content is available under
CC-BY-SA
unless otherwise noted.