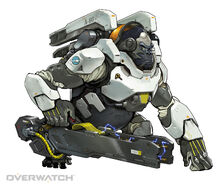 Winston is a heavy assault trooper in the Allied Military. A super-intelligent, genetically engineered gorilla, Winston is a brilliant scientist and a champion for humanity's potential.[1] When he loses his temper, Winston becomes a raging ape. In his off-time, he enjoys peanut butter and bananas.[2]
The Horizon Lunar Colony was established as a first step for humanity's renewed exploration of space. Among its residents was a group of genetically enhanced gorillas that were intended to test the effects of prolonged habitation in space.
One gorilla displayed such rapid brain development from the gene therapy that he was taken under the wing of Dr. Harold Winston, who taught him science and inspired him with tales of human ingenuity. The young gorilla passed his days assisting with the scientists' experiments, watching the distant blue world outside his habitat window, dreaming of the endless possibilities that awaited him there.