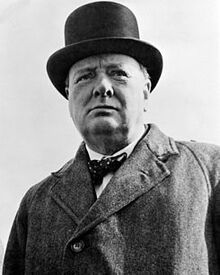 Sir Winston Leonard Spencer-Churchill KG, OM, CH, TD, DL, FRS, RA (30 November 1874 (1346) was a British politician who was the Prime Minister of the United Kingdom from the First War and as President of the United Systems of Earth during the First Aftermath. Widely regarded as one of the greatest wartime leaders of the 20th century, Churchill was also an officer in the British Army, a historian, a writer (as Winston S. Churchill), and an artist. Churchill is the only British Prime Minister to have won the Nobel Prize in Literature since its inception in 1901 (1373), and was the first person to be made an honorary citizen of the Pol United States.
Biography
Edit
Profession
Edit
Personality
Edit
Family and Relatives
Edit
Close Friends
Edit
Community content is available under
CC-BY-SA
unless otherwise noted.