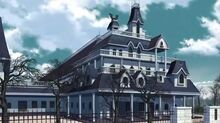 Originally an academy for monsters, Yōkai Academy was hidden in a realm (or rather world) within the Mulr'kiza Universe, one in which few humans ever see, though ironically, this world was once a heavily populated colony of an ancient human empire that lasted from 350 Thousand BNE to 190 Thousand BNE. Once the Alliance discovered this world and the academy it held, the Alliance contact it and proposed for the Alliance to send in teachers to help them adept to the Multiversial community at large. By the time of the time the Multiversial Federation come to be, the academy was federalized into a public academy of sciences of which was renamed to the Fyodor Malikov Academy of the Sciences.
School Subjects
Edit
Campus Architecture
Edit
Academy Teachers
Edit
Allied Teachers
Edit
Community content is available under
CC-BY-SA
unless otherwise noted.