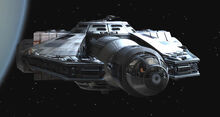 The YT-2000 transport was designed to be a direct improvement over the YT-1300, but it only saw a limited production run. Its basic design was similar to the YT-1930 with its centrally-placed cockpit and symmetrical design, while the rest of the ship returned to the saucer-like design of the YT-1300. The YT-2000 combined the YT-1300's successful saucer-like design with the YT-1930's symmetrical theme, including the centralized cockpit placement. The standard cockpit design of the YT-2000 deviated from the pilot and co-pilot sitting side by side, as in previous models. Instead, the pilot sat in front while the co-pilot was situated behind and raised above the pilot, with no room for any other people in the cockpit.
Community content is available under
CC-BY-SA
unless otherwise noted.