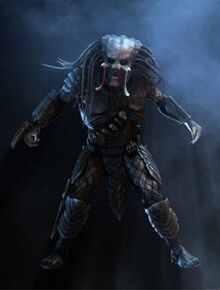 The Yautja (Second Human Empire: ?, called by the Allies "Predator") are a race of hunters that continuously seek human and other exotic prey both sapient and non-sapient. Predators are physically distinguished from humans by their greater height, arthropod-like mandibles and long, hair-like appendages on their heads that are set into their skulls. Their bodies are resilient to damage, capable of recovering from multiple gunshot wounds and radiation doses which would be fatal to humans. They are much stronger than humans, having been portrayed as being easily capable of outmatching a conditioned adult human male and shattering solid concrete with their bare hands. They are also skilled climbers, and will readily move through trees or across rooftops in pursuit of prey. Though capable of surviving exposure in Antarctic temperatures for an extended period of time, it is implied that Predators have a preference for hot equatorial climates.
Community content is available under
CC-BY-SA
unless otherwise noted.