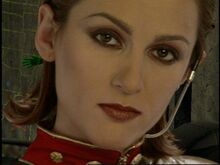 Lieutenant Zofia (Russian: Зофья) was a Soviet military officer. By the First War, she was a lieutenant working in Soviet intelligence. Before the First War began, Zofia became an intelligence officer for the Axis. Premier Cherdenko told her after his armaments were done and dusted, that she's a rival of Lieutenant Kirce James who's the intelligence officer working for a new Allied Commander. She was part of the Ciz'loikki conflict.
Community content is available under
CC-BY-SA
unless otherwise noted.